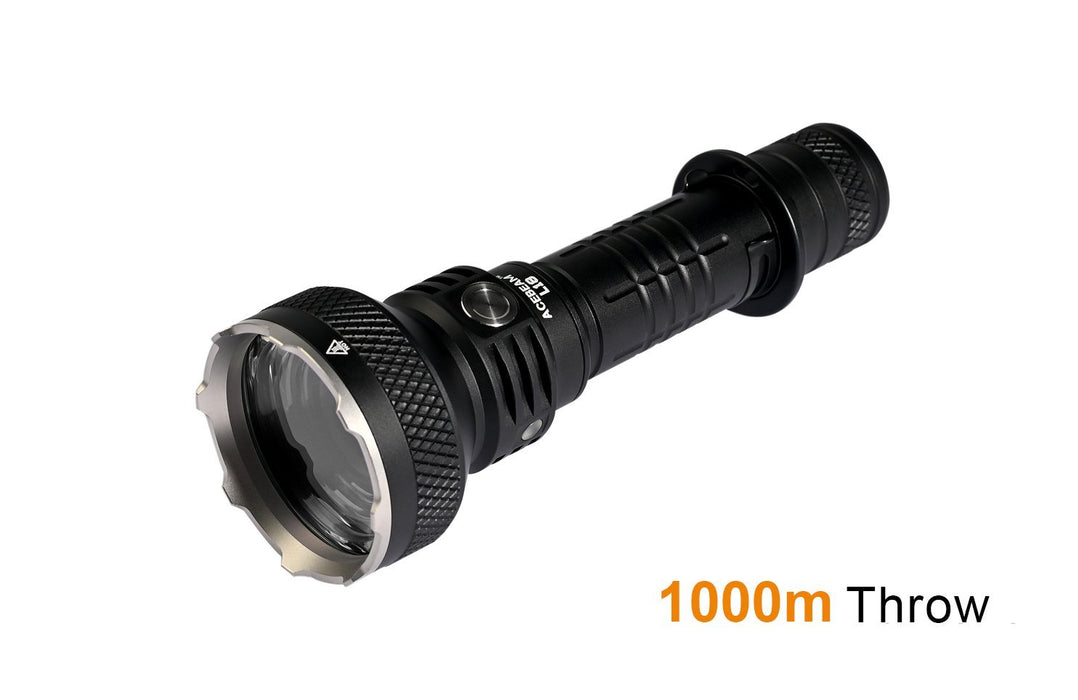 Acebeam L18 - 1500 Lumens Flashlight
Original price
$122.74
-
Original price
$122.74
Usually shipped within 24 hours
The Acebeam L18 Flashlight:
1000meters throw with one single 21700 battery (NO battery is included in the original package. Please note that the choice to include the recommended Acebeam 21700 USB battery will be offered at checkout).

Moonlight: 1 lumen;  94 days
Low: 53 lumens; 12100cd; 220 meters; 47 hours 
Mid1: 190 lumens; 34040cd; 369 meters; 12 hours 
Mid2: 390 lumens; 67600cd; 520 meters; 5 hours 
High: 750 lumens; 121452cd; 697 meters; 2 hours 15 minutes
Turbo: 1500 lumens; 250000cd; 1000 meters; 1 hours 30 minutes
Strobe: 900 lumens; 3 hours 

Max. output 1500 lumens 
Max. beam distance: 1000 meters
Max. runtime: 94 days
Peak beam intensity: 25000cd

Pocket tactical flashlight - compact, lightweight, and portable.
Be able to deliver maximum 1,500 lumens.
A super far-reaching throw of 1,000 meters.
Compatible with a 21700 battery, max runtime of 94 days - The recommended Acebeam USB rechargeable 21700 Li-ion battery will be available at checkout. 
6 brightness levels option plus special Strobe.
Dual switches for easy and fast operation.
Aerospace-grade aluminum body with a hard-anodized finish.
An update TIR lens provides better light quality with a soft and balanced beam.
Toughened ultra-clear glass lens with anti-reflective coating.
The aggressive strike bezel is used to break windows or defend in an emergency situation.
Highly efficient constant current circuit design (Non-PWM).
The power indicator indicates the remaining battery power.
Intelligent temperature regulation and protection adjusts output performance to prevent overheating.
All circuitry contact points are gold-plated, providing better conductivity and superior durability.
Lockout mode prevents accidental activation.
Strobe mode disorients an attacker without excessive force.

Size: 154mm (Length) x 52.2mm (Head Diameter) x 25.4mm (Tube Diameter)
Weight: 147.5g(5.2oz.) w/o battery; 220.5g(7.78oz.) w/ battery
Impact resistance to 1 meter
IP68 waterproof (5 meters submersible)

Please note that the battery and the remote pressure switch are not included in the original box, they are sold separately. Acebeam recommends 1 x 21700 Acebeam IMR21700NP-510A with Built-in USB Port with this light. The battery can be added at checkout if you need it. 
Included items with this purchase are below: