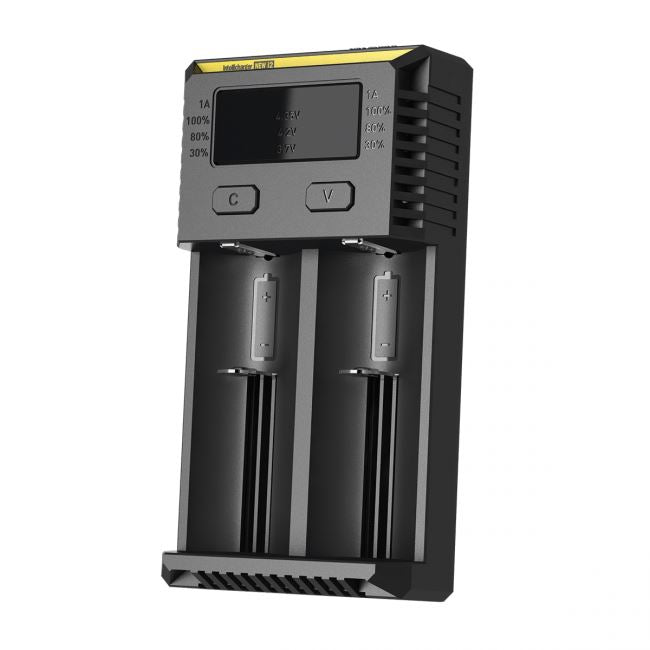 Nitecore New i2 Battery Charger
Save

$11.00
Save

$11.00
Original price
$46.26
-
Original price
$46.26
Availability:
in stock, ready to be shipped
Usually shipped within 24 hours
PRODUCT DESCRIPTION
How much better can the NEW i2 charger from Nitecore be than the original? Six times better or at least it's got six new impressive features. 100% Charging Acceleration, Active Current Distribution, Technology Expanded Compatibility to Support 3.7V and 4.35V batteries, IMR Battery Restoration, Automatic Current Selection Based on Battery Capacity, Automatic Detection of Non-Rechargeable Lithium Batteries, 100% Charging acceleration means the NEW i2 can charge at up to 1000mA current in one slot.  Active current distribution (ACD) technology allows for the dynamic allocation of the NEW i2's charging power. So when one battery full it starts charging the other, like filling buckets. Expanded compatibility to support 3.7V and 4.35V batteries allow you to charge a host of batteries with a single charger.
Just flick the V button to change the voltage to one of half a dozen settings. IMR battery restoration will restore 0V depleted cells by pressing and holding both the C and V buttons simultaneously. The NEW i2 can intelligently select the most appropriate charging current based on automatic battery capacity detection.



Features:
Twice the charging speed of the i2 charger

Active Current Distribution (ACD) Technology

Compatible with 1.2V, 3.7V, 4.2V, 4.35V batteries

Charging program optimized for IMR batteries

Automatic current selection based on battery capacity

Capable of charging two batteries

Two charging slots charge and control independently

Automatically detects battery power status and displays charging progress

Automatically stops charging upon charging completion

Reverse polarity protection and short circuit prevention

Over-discharged battery activation

Overtime charging protection

Designed for optimal heat dissipation

Made from fire resistant, flame retardant PC material

Certified by RoHS, CE, FCC and CEC
Specifications:
Input Voltage: AC 100~240V 50/60Hz 0.25A(max) 8W DC 9~12V
Output voltage: 4.35V±1%/4.2V±1%/ 3.7V±1%/1.48V±1%
Output current: 500mA×2/1000mA ×1
Li-ion/IMR/LiFePO4:
10340, 10350, 10440, 10500, 12340, 12500, 12650, 13450, 13500, 13650, 14350, 14430, 14500, 14650, 16500, 16340(RCR123), 16650, 17350, 17500, 17650, 17670, 18350, 18490, 18500, 18650, 22500, 22650, 25500, 26500, 26650
Flat-topped batteries: 18700, 20700, 21700
Ni-MH(NiCd): AA, AAA, AAAA, C, D
Dimensions: 132mm×70mm×35mm
Weight: 126g (without batteries and power cord)

Included with your charger:
1 x Nitecore New I2
1 x Charger Cable
1 x Warranty Card
1 x User's Manual